Summarize:

---
All parts of Mobile 3RP rotary lobe pump with casing that come into contact with the conveying materials are made of stainless steel that meets sanitary standards, and the seals are made of non-toxic rubber. Reliable rust resistance and non-toxic sealing properties ensure safety and hygiene. The streamlined structure of the rotor and the absence of dead spots and non-metallic parts in the rotor chamber avoid contamination of the conveyed material.

The pump is made of two synchronous rotors/lobes. Rotors are driven by a pair of synchronous gears in the gearbox. Two rotors are rotated in the opposite direction driven by the main and auxiliary shafts, which causes the volume of the pump to change, thus forming a higher vacuum and discharge pressure . This kind of pump is especially suitable for delivering hygienic fluid and corrosive high viscosity fluid.

Generally used in:
It is especially suitable for foaming and conveying high-viscosity, high-concentration and any particle-containing media in the process of re-transporting. The materials conveyed by it maintain the original quality changes without any physical and chemical reactions.

Application Standard: Sanitary Grade for Food, Medical, Pharmaceutical / Corrosion Resistant Grade for Chemical Purpose
Structure Difference: High Pressure/High Viscosity, High Pressure/Low Viscosity.
The core components and sealing devices of the pump are designed according to different characteristics of different fluid, using different materials and sealing types, which improves the professional conveying performance of the product.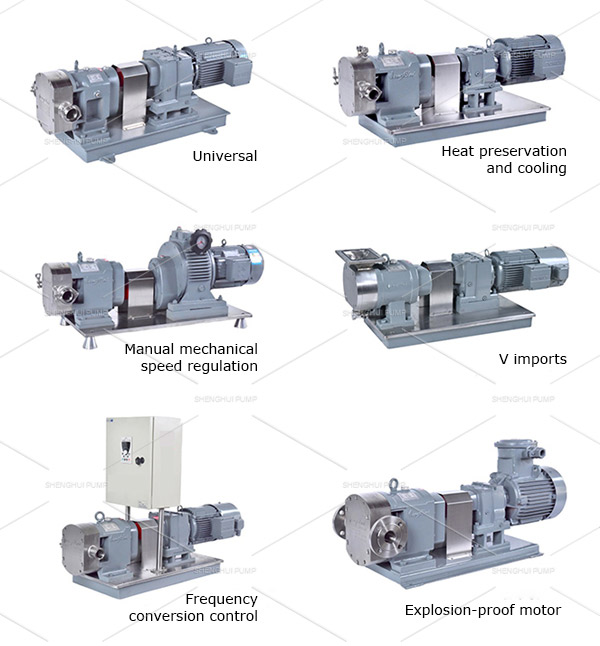 Advantage:
1. All parts in contact with the medium (materials) are made of high-quality stainless steel (material SUS304, AISI316, 316L), which fully meets the hygienic standards.
2. Suitable for conveying high viscosity, concentration and any medium (material) containing particles.
3. Suitable temperature -30℃~200℃.
4. High pressure, suitable for long-distance and high-resistance quantitative conveying.
5. The speed is low, generally between 200 rpm and 600 rpm. The materials conveyed by it maintain the original quality without any physical and chemical reactions.
6. There is no contact between the rotor and the rotor, and there is no wear for long-term use, smooth operation, low noise and high efficiency.
7. Novel design, simple and easy installation and maintenance, easy to clean, and ensure sanitation and cleanliness inside the machine and production.